Are you visiting Dubai for the very first time? Then you'd want to do more than just go on a Dubai city tour, click a picture of the Burj Khalifa, or visit the fancy malls for shopping and food. Because this is not all that Dubai tourism has to offer.
Behind the sleek and modern eccentricities of this glorious city hides an abundance of heritage. Just a short journey inland and you'll be welcomed by a sprawling desert with swathes of golden-red sand dunes glistening in the sun. This is where the real Dubai experience lies!
At Best Desert Safaris Dubai, we have curated some of the best Dubai Desert Safari deals and offers and designed the perfect way for you to truly experience the best that Dubai has to offer.
As you can see, when it comes to Dubai desert safari deals, options are aplenty, and choosing the best desert safari Dubai deal is crucial if you want to have the experience of a lifetime.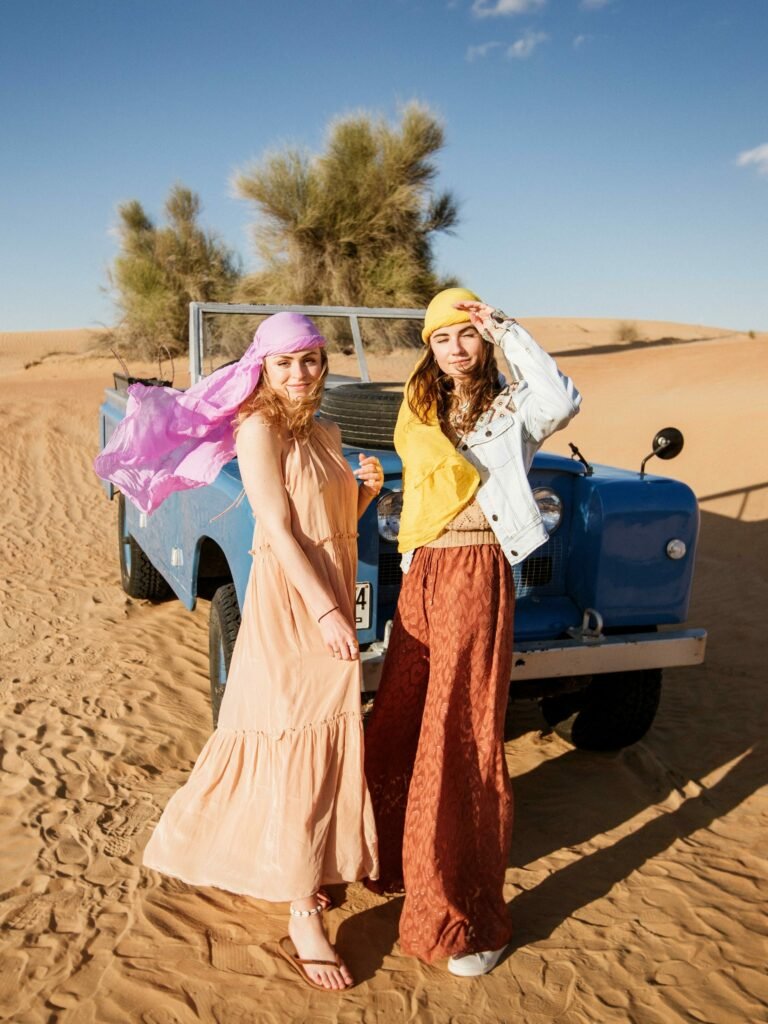 What Is A Desert Safari?
A desert safari is a short expedition across a desert landscape, either in a four-wheel drive (FWD), an all-terrain vehicle (ATV), or on a camel. While the camel desert safari is geared toward families with kids, the 4WD and the ATV desert safari are more popular and are designed for thrill-seekers. While some 4WD desert safaris are exploratory in nature, most others are crafted for those seeking an adrenaline rush and as such include a Dune Bashing experience.
What Is Dune Bashing?
Dune Bashing is a form of off-road driving done on sand dunes, typically in large 4X4 vehicles such as a Toyota Land Cruiser or a Hummer. It involves barreling through and over huge sand mounds at varying speeds and maneuvering the vehicle to maintain balance even when at times it may seem to be at the edge of tipping over. Dune Bashing is an experience that will especially interest those who crave an adrenaline rush.
Although a desert safari is primarily an expedition, it is not limited just to the ride in the desert or a short dune bashing experience and is most often accompanied by exciting activities, delectable food, and exotic entertainment.
Why A Desert Safari In Dubai?
Your Arabian adventure cannot be complete without experiencing the beauty of Emirati culture and the United Arab Emirates desert landscape. And there is no better way to experience the desert than through a desert safari in Dubai. Besides, the desert safari experience is something that many have on their bucket list. But only a few get the chance to experience it. So if you are currently in Dubai or are planning to go there, this is something you surely don't want to miss out on.
Dubai Desert Safari deals are also available at both affordable and premium rates, depending on what kind of experience you are looking for. No matter what your budget is, there is a deal for everyone. There are many respected desert safari operators in Dubai who will ensure that you have one of the most memorable experiences of your lifetime. Dubai also offers the opportunity for exclusive private and luxury desert safari deals, which is not something you'll find elsewhere.
Desert Safari in Dubai Vs Abu Dhabi Desert Safari
In addition to the desert safaris in Dubai, there are also desert safari opportunities in Abu Dhabi. However, the Abu Dhabi Desert Safari deals are not as extravagant as the ones you'd find in Dubai. That's because not many tourists travel to this region. Most tourists who visit the UAE tend to prefer Dubai due to the Burj Khalifa, the Al Khayma camp, and the variety of attractions Dubai tourism offers.
And since Abu Dhabi is a good 150 kilometers away from Dubai, most don't see the merit in taking a round trip just for the sake of a desert safari, when there are plenty of options in Dubai itself. That being said, if you do find yourself traveling to Abu Dhabi, you should get a good desert safari deal for an affordable price. Read more about desert safari in Dubai vs Abu Dhabi
THINGS TO KNOW BEFORE YOU BOOK A DUBAI DESERT SAFARI TICKETS
What Are The Different Types of Desert Safaris in Dubai?
Broadly speaking, there are two types of desert safaris; those that are exploratory in nature and those that are thrill-seeking. Desert safaris in Dubai that are exploratory in nature include the Heritage Desert Safaris where you explore the flora and fauna in the Dubai desert conservation reserve and learn about and experience first-hand, the traditional Bedouin culture. Desert safaris in Dubai that are thrill-seeking in nature include those that incorporate dune bashing and associated sports activities such as quad biking and sandboarding.
But beyond these, Dubai desert safaris can also be classified into separate categories based on the mode of travel and the time of travel.
Best Desert Safari Deals Based on Ride Options
Depending on the safari operator you contact, you will get an eclectic list of ride options to choose from. These include vintage, modern, and luxury four-wheel drives, and also some all-terrain vehicles.
Toyota Land Cruiser/Nissan Patrol/Lexus Desert Safari
Perhaps the most popular among the Dubai Desert Safari packages are the Four Wheel Drive (FWD) desert safaris conducted in sturdy SUVs such as the Toyota Land Cruiser, Nissan Patrol, Lexus, and others. It is the most affordable among the Desert Safari Dubai deals and is also the most popular among budget travelers.
Exclusive VIP Hummer Desert Safari
Now, if you want to stand out from the crowd among the fleet of Land Cruisers, a desert safari in the large and mighty Hummer is what you are looking for. However, the VIP Hummer Safari is pricier and is also not offered by every safari provider. Nonetheless, if you want to feel important, the Hummer Safari is well worth the money.
Range Rover Luxury Desert Safari
For those looking for a more luxurious option, the Range Rover luxury desert safari is the perfect fit for you. You can feel like royalty, cruising across the desert in these fully-equipped, ultra-modern Range Rovers, with a dedicated conservation guide to chaperone you.
You'll have an exclusive experience, of being picked up from the city in an air-conditioned luxury vehicle, driving through a privately owned royal desert property admiring the beauty of the desert and native wildlife.
Vintage Land Rover/Classic Land Rover Defender Heritage Desert Safari
If you are not into dune bashing and would prefer a calmer ride through the desert, then the Heritage Desert Safari in a 1950s vintage Land Rover or a classic Land Rover Defender would be most suitable for you. It is a fascinating experience to journey back to a bygone era in these open-top vintage beauties and click a few pictures with them, as you learn about the flora and fauna of the desert. You also spend time at a traditional-style Bedouin camp, where you can explore the culture and the cuisine.
The Dubai Vintage Land Rover Heritage Desert Safari also seems to be popular with international celebrities too, with the likes of Will Smith, Selena Gomez, Zendaya, Jason Derulo, Kylie Minogue, Ricky Martin, Thomas Muller, and many others giving it a go.
Dune Buggy Desert Safari
Another four-wheel option you could choose that is quite different from the others mentioned here is the Dune Buggy Desert Safari. The buggy, which gets its name from the Volkswagen Beetle, is a car-like vehicle, except without the outer body. The buggy comes with a steering wheel and a roll-over cage and has a strong suspension and high horsepower-to-weight ratio.
The Dune Buggy safari gives you the opportunity to explore the open desert Mad Max-style, with a convoy of other riders and a professional backup team for safety and mechanical assistance. Ripping through the desert sands in these powerful vehicles is indeed a thrilling experience. And the fact that you get to self-drive these vehicles makes it more appealing than dune bashing for people passionate about driving.
Best Desert Safari Dubai Deals Based On Time Options
If you contact any of the best desert safari companies or operators in Dubai, you'll usually be offered the choice of three different packages based on the time of the journey. These include the late-afternoon/evening desert safari, the overnight desert safari, and the morning desert safari.
Evening Desert Safari Dubai
It is a misconception that the desert is hotter than the city in the late afternoons and evenings. In fact, the desert is a good 10 degrees cooler than the city and the coast during these hours, thanks to the unique nature of the desert sand. Since there isn't a lot of moisture in the sand, it causes the desert to cool down rapidly, making it a pleasant and ideal time for tourists to enjoy a desert safari experience.
Overnight Desert Safari Dubai
If you have time to spare and you want a complete experience of Bedouin culture, then perhaps the overnight desert safari is the ideal choice. With the overnight desert safari, you get to spend a night in the desert in a Bedouin camp and wake up to a magical sunrise.The overnight desert safari dubai usually begins late in the evening with a short period of dune bashing, after which you travel to a campsite.
Morning Desert Safari Dubai
The scorching heat in the morning might make the morning desert safari unbearable for some. But if you are a morning person or if you are short of time, the morning desert safari is the ideal choice due to the lack of crowds and the easy booking availability. The chances are you could get a good discount too. So if you are on a budget, the Morning Desert Safari is a perfect choice.
Our Services
What's Included In Our Desert Safari Tour?
For those looking to tread an off-beat path, there are also overland desert safari options where you also get to explore the mountains and canyons of Dubai's and take part in fun activities such as trekking and cycling.
What Are The Activities Associated With Desert Safaris?
In addition to dune-bashing, food, and entertainment, other activities are also often clubbed with Dubai Desert Safari City Deals, sometimes at extra pay.
How Long Is The Desert Safari In Dubai?
The duration of the Dubai desert safaris depends on the type of safari city tours you choose. A morning desert safari in Dubai is approximately four to five hours long. You'll be picked up from your hotel at around 8 or 8.30 in the morning depending on the safari operator and where your hotel is located, and will be dropped back at around 12.30 in the afternoon.
A late afternoon or evening desert safari is usually around six to seven hours long, depending on when your pick-up is scheduled. If you are picked up at around 2.30 or 3 in the afternoon, you can expect to be back at your hotel by 9.30 at night. On the other hand, if you are picked up at 4 or 5 in the evening, you'll be dropped back closer to midnight.
An overnight desert safari could be as long as 16 to 18 hours, as you'd be spending a night in the desert. Depending on whether you are picked up in the late afternoon or in the evening, the drop-off times will also change. If you are picked up at around 2.30 or 3 in the afternoon, you'll be dropped off the next day at around 8.30 or 9 in the morning. If you are picked up later in the evening at 4 or 5, you can expect to be dropped back the next day by around 10 or 11 in the morning.
There's also the self-drive dune buggy safari, which is shorter in duration as it does not include other activities such as dining and entertainment. However, there are dune buggy safaris that club these together too. Dune buggy safaris are also scheduled at various times; some begin in the mornings, some in the afternoons, and others in the evenings. So you can choose one at your convenience.
Typically, these safaris can be anywhere between 1 to 4 hours in duration depending on how much you are willing to pay.
Here's a chart that summarizes the average duration of the popular desert safari tours available.
| | | | |
| --- | --- | --- | --- |
| Type of Safari | Pick-Up | Drop-Off | Duration (Approx.) |
| Morning | 8.00 PM to 8.30 PM | 12.00 PM to 12.30 PM | 4 to 5 Hours |
| Late Afternoon | 2.30 PM to 3.00 PM | 09.00 PM to 09.30 PM | 6 to 7 Hours |
| Evening | 4.00 PM to 5.00 PM | 11.00 PM to 12.00 PM | 6 to 7 Hours |
| Overnight 1 | 2.30 PM to 3.00 PM | 08.30 AM to 09.00 AM | 16 to 18 Hours |
| Overnight 2 | 4.00 PM to 5.00 PM | 10.00 AM to 11.00 AM | 16 to 18 Hours |
| Dune Buggy | 8.00 AM to 8.30 AM | 12.00 PM to 12.30 PM | 1 to 4 Hours |
Note: These are by no means the exact times and are only approximations. The scheduling of desert safaris is dependent on multiple factors and as such safari operators will only be able to inform you of the exact time a day prior to the safari.
Now, although the whole safari experience may be quite long, the time allotted for each activity during the safari might be much less than you expect, unless, of course, you are willing to pay more. It's best that you get a clear understanding of these time limits so that you are not disappointed during the safari.
The dune bashing in the four-wheel drives is usually around 30 to one hour long depending on the safari operator. This is a fair duration as anything over one hour would turn out to be exhausting. Quad biking that is incorporated into a desert safari package is usually only 10 to 30 minutes long. The same goes for sandboarding and sand surfing. Camel rides, on the other hand, are quite short unless you choose the camel desert safari option, in which case you get to ride a camel across the desert for close to an hour. In all other cases, you only get to ride the camel for about 5 to 10 minutes within the premises.
Is Desert Safari Safe In Dubai?
It's a misconception that a Desert Safari is dangerous, especially because not all desert safaris are the same. Perhaps the reason for this assumption is that most people directly associate Dubai Desert Safaris with Dune Bashing.
In reality, there are many desert safaris that do not incorporate dune bashing at all, such as the heritage safari across the Dubai desert conservation reserve and the camel ride safari, which are focused on exploring nature and culture. These are perfectly safe even for toddlers.
Of course, there's an element of danger when it comes to dune bashing. But the dune-bashing desert safaris are geared toward people seeking a bit of danger and an adrenaline rush. Nonetheless, these are organized following all safety precautions to avoid any accidents. Besides, these are also age-restricted.
So if you don't suffer from physical ailments and motion sickness, and you follow all the precautions, dune bashing is also safe, provided it is organized by an experienced and trusted safari operator.
Perhaps the higher danger comes with associated activities such as quad biking and sandboarding, which are better suited for adults who have prior experience riding all-terrain vehicles. But there's no harm in trying these if you make sure to avoid rashness.
What Is The Age Limit For Desert Safari In Dubai?
Most desert safari Dubai activities are geared towards adults, which is why you check beforehand what is allowed and what is not. There are no age restrictions when it comes to heritage safaris and camel ride safaris as these are meant to accommodate families with kids. However, you might have to book a private safari if you are traveling with children under the age of five.
There are strict age restrictions, however, when it comes to desert safaris that include dune bashing, and associated activities such as quad biking and sandboarding. The age limit varies from one operator to another. Some operators allow children above 5 on their dune bashing safaris, while others only allow children over 10.
From a medical point of view, it is advised that children of the age of 10 or less should not take part in dune bashing safaris, even if the safari operator allows it.
What Precautions Should Be Taken Before A Desert Safari?
Get ready to be bathed in the sand
When you are riding across a desert in a 4WD, barreling through sand dunes, it goes without saying that you are bound to get sand everywhere. But somehow it seems most people fail to realize just how invasive this problem can be. Once you are done with the safari, you will find sand in the most unexpected places. It will find its way into the nooks and crannies of everything you bring along with you. It could potentially cause damage to electronic property. That's why it is crucial that you pick and choose carefully what you carry along with you on a desert safari.
Be Mindful of Your Health
It is of utmost importance that you take all necessary precautions relating to your health before going on a desert safari. Those with physical ailments, neck and back problems, and pregnant women should avoid taking part in dune bashing at all costs. It is also best that those with motion sickness also avoid dune bashing.
Those with sensitive skin would do well to use the necessary creams and lotions for protection from the heat and the sand. And if you have food allergies, it is always best to inform your safari operator beforehand so that necessary arrangements can be made. If you are taking medications, be sure to carry them with you as arranging them in case of an emergency wouldn't be possible in the middle of the desert.
Choose Your Attire Carefully
The temperature in the desert can be high in the mornings and low during the nights. So it is always ideal to dress appropriately for maximum comfort. It would be best to avoid formal attire and instead wear loose and comfortable clothing in the summers. Sandals or flip flops are preferred to shoes as closed footwear can get filled with sand quite easily when you are in the desert, which could be uncomfortable for some people. However, it would be better to wear closed footwear during the summer for added protection from the heat. Wearing hats and UV-resistant sunglasses is also advised to avoid getting sand in your eyes. It would also be wise to avoid wearing expensive jewelry or accessories as they could get lost in the sand during activities and may be difficult to find once lost. During the winters it is advised that you carry warm clothing with you as the nights can get quite cold.
Some Tips That Could Help:
Empty your bladder before setting out on the safari as you will be without washroom and toilet facilities for quite some time.
Avoid eating 2 or 3 hours before a dune-bashing safari to avoid feeling nauseated or sick.
Avoid carrying expensive things as there are chances that they could be misplaced or lost if you are in a big group.
Avoid carrying illegal items such as alcohol, drugs, or firearms with you as you will immediately be reported and the consequences will be severe.
Always follow the instructions of your tour guide and do not steer away from your group as the desert can be quite unforgiving if you are lost
Can You Go On A Desert Safari In Dubai In The Summer?
The answer to this question is a resounding yes. Most people have the misconception that it wouldn't be possible to go on a desert safari in the summer as they assume the desert will be unbearably hot. But in truth, this is not the case.
While international tourists do tend to prefer to go on a Desert Safari dubai in the winter months, when the temperature is cooler, summer can be a great time to visit the desert too. As mentioned before, the desert is actually cooler than the city during late afternoons and evenings. That's because there is so little water in the desert and as a result, the air over the desert is extremely dry and has very low humidity. Even though this may sound strange; water vapor is crucial in regulating the earth's temperature. And without the presence of water vapor in the desert atmosphere, the ground doesn't hold the heat due to which, the desert becomes cooler at night by around 7 degrees than the coast. So during the summer, a Desert Safari might in fact be much more appealing than a Dubai city tour.
Besides, most safari operators also make changes to packages to accommodate the difference in temperature. So you can definitely go on a Dubai Safari in the desert during the summer. All it requires is a little bit of planning.
What Is The Best Desert Safari in Dubai?
There are numerous desert safari tour package operators and choosing the best option is not always straightforward as choosing a Dubai city tour. That's because what is best often depends on each individual's needs and requirements.
But of course, some desert safari companies are surely more trusted by others thanks to experience, quality of service, and value for money. So your objective would be to choose the best from among these trusted Safari operators. Below is a detailed guide that will tell you what you should consider before choosing a Dubai desert safari tour.
HOW TO CHOOSE THE BEST DUBAI DESERT SAFARI OFFERS & DEALS
When you're spoilt for choice, most often than not, you end up choosing the wrong option unless you put in some real effort to research. With dozens of desert safari operators in Dubai to choose from, the same is the case when choosing the best among them.
So here's what you should look for when choosing the best desert safari tour for you.
Thrill or Peace
Perhaps the first thing you need to do to choose the best Desert Safari deal for you is to determine what kind of experience you are seeking.
If you are someone who loves the thrill of adventure sports, riding the roller-coaster, or extreme motorsports, then you should probably choose a safari deal that includes dune bashing, and other activities such as quad biking and sandboarding.
On the other hand, if you prefer peace and are inclined to explore nature and culture, then you'd probably prefer a heritage safari when you'd explore the flora and fauna at the Dubai desert conservation reserve and learn the intricacies of Emirati culture at a Bedouin camp.
Expertise & Ratings
Finding out the user rating and the expertise levels of Safari operators is crucial if you are to choose the best desert safari tour in Dubai. However, this is easier said than done, because there are numerous safari operators to choose from. If you are a novice, it would be difficult to even differentiate between safari providers and wholesalers.
It also wouldn't be wise to ask your hotel concierge for advice as most hotels have a contracted supplier for such activities and as such, they might not be able to give you an impartial recommendation. One thing you can do is check for user ratings and experiences on Google. But, if you could speak to someone personally about their desert safari experience, that would be even better.
You could also turn to aggregator platforms such as Tripadvisor, Thrillophilia, or Viator. However, you should be aware that these could become biased according to demand and availability. Besides, you could end up paying more than you really have to as these kinds survive off the commission they earn from driving customers to certain operators.
But clearly, there are some premium operators that are preferred by celebrities and as such do hold a high reputation. But these are always in high demand and also quite expensive. You'll need the right contacts to book these premium desert safari deals. Instead, you could also turn to the many reputed local operators that you may not find listed on Google but have been doing this for ages.
Type of desert camp and group size
International visitors are often not aware that most desert safaris are organized in groups with varying numbers of travelers and different types of desert camps, unless, of course, you book a private safari tour. That's why it is important to ask the safari operator the type of desert camp and the size of the group you'd be traveling with.
Medium Camps (Above 100 people)
These are often shared camps between multiple companies and the number of guests could be anywhere between a few hundred. And since these are shared camps, they will be cheaper and offer good value for money. The drawback with these types of camps is that the company you book might not have control over the facilities and services at the camp as they are shared by many companies. Other companies may also try to strongarm yours to gain preferential treatment for their guests.
Private Camps
A private camp is of course the best choice if you can afford it, and also manage to get a deal before it gets sold out. The great thing about private camps is that you will get five-star service with at least one staff member to attend to three to four people. You'll also get the luxury treatment and feel like a Royal in the desert. But perhaps more importantly, you'll be assured complete privacy.
Company Guide or Freelance Guide
During the entirety of your desert safari, your one point of contact will be your safari guide. The tour guide will be your go-to person who is responsible for making sure you have a memorable experience. In other words, your safari guide is the one person who can make or break your Dubai desert safari experience.
Here's where the kind of Safari operator you choose becomes very important. A trusted and reputed Safari provider will guarantee a company-trained safari guide, who will ensure you get the best service. Company guides will also have undergone first aid training and safety training to provide immediate assistance during emergencies.
On the other hand, a lot of companies, especially wholesalers, who sometimes don't have any staff at all, have to rely on freelance safari guides. And while some freelance tour guides turn out to be excellent, others may be less desirable. That's why you'd need to ensure that you get an experienced safari guide to accompany you.
Food & Dining
Now, if you are choosing a desert safari experience that includes camping and dining, it is always safe to ask what kind of food is served.
The food served at Heritage Safaris is only authentic Emirati cuisine. So keep an open mind with regard to taste. In all other cases, you should get a wide spread of cuisines including Arabic, Continental, Indian, and East Asian dishes. So make sure you don't lose your appetite by having too much food before the safari.
A typical BBQ four-course dinner will include a buffet with a wide range of choices. You get warm appetizers such as falafel, shawarma, and spring rolls, and cold appetizers such as regular salad, baba ganoush, fattoush, tabbouleh, and mutabal. This is followed by the main course which includes chicken sausages, baked potatoes, noodles, macaroni, pasta, fried rice, steamed rice, stew, and more. From the BBQ grill, you get popular favorites such as chicken tikka, lamb kebab, grilled fish, shish taouk, grilled veggies, Arabic bread, Indian Rotis, and more with dipping sauce. For dessert you get cakes, puddings, muffins, local fruits such as apricot, and sweets. You also get unlimited coffee and soft drink on request. Be aware that these are not staples and could change every night.
Premium desert safari companies offer fine dining and will have a staple that is usually served. They will also give you a detailed menu of all the food items available. With smaller desert safari companies, the menu changes each day, and so they might not be able to tell you exactly what you'll be getting. But typically you'll have vegan and non-vegetarian options. Some premium safari operators also offer gluten-free food and also accommodate kosher requirements. Most operators also cater to specific requirements in case of allergies.
Cancelation Policy
Before you choose a desert safari provider or wholesaler, it would also be wise to learn about their cancelation policy or whether they have one at all. This is especially important considering the pandemic and the uncertainty regarding travel schedules.
Most trusted safari operators do offer a cancelation policy. While some offer a full refund, others might not. In most cases, you will also have to cancel your booking at least 24 hours before the date of the safari if you are to be refunded. Be aware that these cut-off times are based on local time. So you'll have to plan accordingly.
Certification
Once you've decided on the kind of Dubai safari experience you are seeking, the next step is to make sure that the desert safari operator you are speaking to is certified.
Now, if you are looking to book tickets for a Desert Safari in Dubai, you will either end up speaking directly to a Safari provider, or a wholesaler.
Safari Provider: A safari provider is the actual operator of a desert safari who owns the infrastructure such as cars, campsites, and properties. They are the ones who employ and are responsible for the staff. With safari providers, you have greater flexibility as you can ask for customizations and make special requests. However, the chances that seats get filled up are also high.
Safari Wholesaler: A wholesaler is a company that has partnerships with multiple Safari Providers and sells you deals on their behalf. The advantage with wholesalers is that you get access to multiple desert safari providers through one platform and so you can be sure to get a decent deal as per your requirements. However, the drawback is that you might not have recourse if you are not satisfied with the service or need to make amendments as you will not have direct contact with the provider.
Variety of Packages
As you must be aware by now, not all Dubai Desert Safari deals are the same. Some are conducted in the morning; some in the late afternoons and evenings, and some are designed to be enjoyed overnight. Further, some desert safaris are geared towards thrill-seekers and include activities such as dune bashing and quad biking, while others are much more peaceful and are focused on nature and culture exploration.
But beyond these extrinsic differences, each desert safari deal is also intrinsically different depending on the safari company and the price. That's why it is important to check the itinerary and learn exactly what is included. While some companies have a wide variety of packages and allow for customizations, there are also others that don't. Wholesalers may be able to allow you a large number of choices, but customization might not be an option. So it's always best to ask what's included in each package and whether there is space for customizations.
Large Camps ( Up to 600 people)
Some safari operators entertain close to 500 or 600 guests each night in large private camps. These kinds of camps are cheap and are geared toward budget travelers. Besides the monetary aspect, one advantage is the festival-like atmosphere in these camps. You'll be experiencing the desert with fellow international travelers from around the world. But the obvious drawback of larger camps is the lack of personalized service, long buffet lines, and of course, a very busy desert.
Small Camps (Up to 100 people)
Not many safari operators offer the choice of small camps, but the ones that do, offer a high level of service and allow better opportunities for customization. These are ideal for seasoned travelers, families with children, and small groups celebrating special occasions, as the safari experience will be less hectic and much more intimate.
Desert Safari Dubai Price & Packages – How much does it cost for a desert safari in Dubai?
There are stark differences in prices when it comes to desert safaris, which is why contacting only a single safari provider directly and choosing the deal they offer you, is ill-advised.
But since the prices vary so much depending on the safari provider or wholesaler, the type of desert safari tours you choose, the time of year, and the customizations, giving you an accurate rate chart would also be an impossible task.
Nonetheless, here's an attempted breakdown of the prices into general categories.
| | | |
| --- | --- | --- |
| Category | Price Range | What You Get |
| Luxury VIP | AED 2500 and upwards per person | Private camp, private entertainment, fine dining, private chef and butler, company-trained safari guides, luxury vehicle transport, and bathroom facilities. |
| Luxury | AED 1500 to AED 2500 ($410 to $680 approx.) | Private camp, company-trained safari guides, luxury vehicle transport, and bathroom facilities. |
| Premium VIP | AED 500 to AED 700 ($135 to $190 approx.) | Shared camp, small group, company-trained safari guides. |
| Premium | AED 350 to AED 500 ($95 to $135 approx.) | Shared camp, medium-sized group, company-trained safari guides. |
| Economy | AED 250 to AED 350 ($80 to $95 approx.) | Shared camp, medium-sized group, freelance tour guides. |
| Budget | AED 150 to AED 250 ($40 to $80 approx.) | Shared camp, large group, freelance tour guides. |
| Ultra Budget | AED 75 to AED150 ($20 TO $40 approx.) | Shared camp, large group, freelance tour guides. |
Note: Be aware that this is not a description of available desert safari packages and prices, but rather an approximation based on a survey of all the packages from various companies.
Despite there being many safari operators, the best desert safari Dubai deals often do sell out, especially in the case of premium luxury safaris and heritage safaris. That's why it is always best to book desert safari Dubai deals you like well in advance. Once all the seats are sold out, opening up more space would become difficult unless you have the right contacts.
Should You Book Your In Advance Or Is The Desert Safari In Dubai Worth It?
The demand for desert safari deals also tends to sell out quicker in certain seasons; especially during the busier times of the year, such as the Christmas and New Year Holidays, when most people travel to the Middle East on a Dubai tour. Dubai also sees a number of travelers during the Easter holidays as well as the American and European school holidays. However, depending on the safari operator, you can choose to book your seats even a month in advance. So if you have your Dubai tour travel dates confirmed, you can not just avoid disappointment but also get much cheaper deals by booking your desert safari deal in advance.